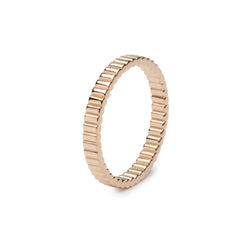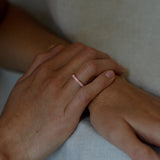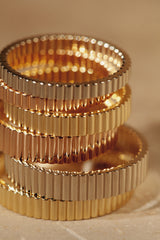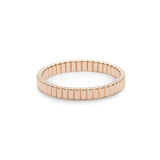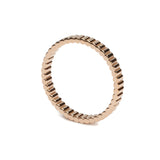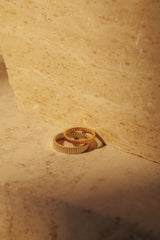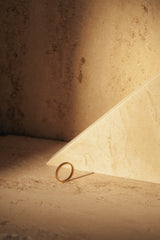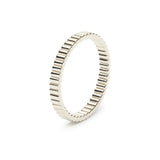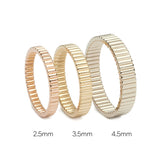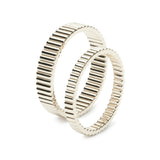 PRODUCTION TIME & SHIPPING
Most of the jewellery is handmade to order. It takes 2-6 weeks from your purchase to ship. Meanwhile some of the items are ready in stock and shipped immediately. Please 

contact us

 to clarify availability and production time.
We deliver our goods with TNT courier service in 1-3 business days (after the order is ready).
PRODUCT DETAILS
A bunch of tiny cylinders forming one complete shape. Inspired by the vintage ripple glass texture. Certainly noticeable on you hand.
And here is a little technical benefit of this shape - no scratches will be noticeable in time. A perfect choice for the wedding rings.
Design is also suitable as a statement ring for any other finger
solid 14k gold
2.5mm wide


How to measure my ring size?
The best way to measure your exact ring size is to head over to a local jewelry store/workshop and figure it out.
When to measure my finger?
Do not measure a finger when it is cold or too hot as this can have a significant effect on a ring size. For example, when your fingers are cold they can be at least half a size smaller.
How should the ring fit?
Your ring should fit comfortably, so that it is tight enough not to fall off, but loose enough to slide over your knuckles 

Remember that no two hands are exactly alike. A ring worn on one finger on your left hand won't fit perfectly on the same finger on your right hand.
Is the size equal for all ring models?
The style of the ring also affects the size: for a thinner ring you should consider a smaller size than for a wider ring.
What if I'm buying a gift?
If you are buying the ring as a gift, please contact us and we will try to help to figure out the right size by requesting additional information from you like hand photos, body height, etc.
Can't decide between two sizes?
If you can't decide between two sizes, we suggest you choose larger rather than smaller size.
| | | |
| --- | --- | --- |
|  Inner diameter (mm) | UK / Australia | US / Canada |
| 12 | 1/2 | A |
| 12.5 | 1 1/4 | B 1/2 |
| 13 | 1 3/4 | C 1/2 |
| 13.5 | 2 1/4 | D 1/2 |
| 14 | 3 | F |
| 14.5 | 3 1/2 | G |
| 15 | 4 | H 1/2 |
| 15.5 | 4 1/2 | J |
| 16 | 5 1/2 | K 1/2 |
| 16.5 | 6 | L 1/2 |
| 17 | 6 1/2 | M 1/2 |
| 17.5 | 7 | O |
| 18 | 8 | P 1/2 |
| 18.5 | 8 1/2 | Q 1/2 |
| 19 | 9 | R 1/2 |
| 19.5 | 9 1/2 | S 1/2 |
| 20 | 10 | U |
| 20.5 | 11 | V 1/2 |
| 21 | 11 1/2 | W 1/2 |
| 21.5 | 12 | X 1/2 |
| 22 | 12 1/2 | Z 1/2 |
Some items are READY IN STOCK  and will be delivered in 1-3 working days, but some require production. Before making the purchase, please check the "Production time" section in each product's description. Or feel free to contact us and clarify the production time: orders@room88.eu
Delivery cost & time
Latvia

 5 eur

FREE

TNT courier

Pick up in Studio

 

Elizabetes 41/43, Riga

Estonia & Lithuania 
10 eur

TNT courier




EU
20 eur

TNT courier

 

USA
30 eur

TNT courier

+ any local taxes and duties
Australia
30 eur

TNT courier

+ any local taxes and duties

Rest of the world
30 eur

TNT courier

+ any local taxes and duties